Saturday, February 25, 2006
Bye-bye, blogspot
Saturday, February 11, 2006
Don't Hassel the Hoff
Oh, sweet Lord.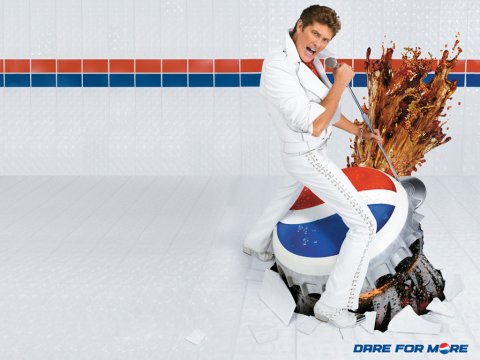 Apparently the Aussies are crazy for
David Hasselhoff
, too. Enough for Pepsi to take notice with
this ad campaign.
Is it a joke? A career? A joke wrapped inside a career? A career wrapped inside of a joke wrapped inside of a career??? (more evidence
here
)
It spins my noodle.
Wednesday, February 08, 2006
What good is Caller ID?
Tuesday, February 07, 2006
Ghost in the machine
Thursday, February 02, 2006
Math fun
Tuesday, January 31, 2006
Foodthulhu
Monday, January 30, 2006
Try the veal
Ultimately, EVERYBODY just wants to makes music.
Thursday, January 26, 2006
Dumbest moments in business
Monday, January 23, 2006
The ghosts of BASIC past
Sunday, January 22, 2006
Pluto brings out silliness
Haven't you wanted to do this?
Wednesday, January 18, 2006
Before you leap...
Monday, January 16, 2006
Nanotechnology...
1000 reasons to love Japan
Symptoms of fatigue
Sunday, January 15, 2006
Sunday funnies, the remix
Thursday, January 12, 2006
Spam subject du jour
Wednesday, January 11, 2006
Geckos with friggin' LASER BEAMS!
Wednesday, January 04, 2006
Today, on "Internet", part 2
Today, on "Internet"
This says it all
Saturday, December 31, 2005
The Infotainment soundtrack
Monday, December 26, 2005
Replacement for rotations of "It's a Wonderful Life"
Sunday, December 25, 2005
Iris vs Technology